Welcome to our 2023 AdultSearch.com review, a quick exploration into one of the leading platforms in Adult Escorting. Whether you're a seasoned visitor or a first-time user, our analysis will give you a thorough understanding of what to expect from this website.
What Is AdultSearch.com?
AdultSearch.com is a well-established platform providing adult companionship, including escorts, Sex shops, strip clubs, massages and various other adult services. It boasts a user-friendly interface and a wide array of options that cater to different preferences and interests.
Usability and Interface
Seamless Navigation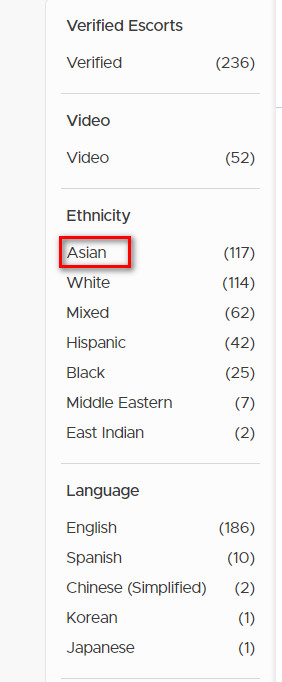 AdultSearch.com's platform design enables seamless navigation. Categories are clearly defined, and the search functionality is intuitive. Users can effortlessly browse through various sections, making the process of finding what they're looking for as straightforward as possible. To start the process, just start by finding your country and city. For example, we'll pick Las Vegas Nevada, USA. The result page will the following: Female Escorts in Las Vegas Nevada. Once on that page, a left column will show up and give you access to quick tags. So for example, if you are looking for an Asian companion, you can click "Asian " and the following page will show all Asian companion in Vegas. On the next page, you can categorize the results again.
User Profiles
One of the site's strong suits is the detail incorporated into user profiles. Each profile offers comprehensive information about the service provider, including their last update date, Location, phone number, physical attributes, photo gallery (sometime a video) rates, services offered, and customer reviews.
Services and Content
Extensive Array of Adult Services
What sets AdultSearch.com apart in our 2023 AdultSearch.com review is the extensive array of adult services it provides. From escort services, body rubs, to strip clubs, AdultSearch.com does an impressive job of covering all bases of adult entertainment. Selecting a service per city is super easy and will get you to your town in a few clicks.
Customer Reviews, where are they?
Another missing feature is the lack of a customer review and rating system. Users should be able to share their experiences, allowing potential clients to make informed decisions. This lack of transparency takes away some trust and lower the user experience IMO. Now I am not here to criticize the website, I just think this is a super important part of an Escort site.
FAQs
Is AdultSearch.com safe to use? Yes, AdultSearch.com is safe to use, with measures in place to ensure the safety and privacy of its users.  I said it before and I will said it again: ALWAYS Ensure to consult local regulations to determine the legality of hiring a companion in your region/state/country.
Is there a membership fee for AdultSearch.com? Usage is free, you can browse the profiles without having to pay anything. However, if you want to post an ad as an escort, you would have to click "advertising" at the bottom of the page. The fee per post, per month is $19.99 (Maximum 2 locations)
How reliable are the service providers on AdultSearch.com? The website takes steps to verify SOME providers, enhancing the reliability of services offered. I would recommend sticking with the profiles that are VERIFIED.
Conclusion
Our 2023 AdultSearch.com review reveals a platform that excels in usability, content variety, and user safety. Whether you're exploring adult companionship for the first time or seeking a dependable platform, AdultSearch.com could well be worth your consideration.
The Good
User-friendly interface
It's 100% Free for Users
Extensive array of adult services
Detailed user profiles
Large of amount of cities are covered
The Bad
A very outdated design
No user reviews on any page.
No rating system
Small percentage of Verified profiles
Not Legal everywhere!