About Babestation.TV
With nearly two decades of operating history, Babestation TV is arguably one of the UK's oldest and most popular adult chat TV channels. Remember "Babenation" that used to air on SKY UK between 11 PM and 1AM from late 2002? Well, the same management, Cellcast Group, operates Babestation.TV and BabeStationCams, among several other interactive adult online platforms.
Babestation.TV now runs one of the fastest-growing camming platforms featuring some of the hottest British and international babes. The site is service-oriented, promising visitors naughty sessions with glamorous models that delight in executing your every desire.
To be honest, Babestation.TV is merely an online version of "Babenation" with dozens of more models and cool interactive features like instant messaging, vibratory, and an effortless tipping, among others. In fact, with their VIP membership, you get access to the old Babestation's footage dating 15 years ago for some great vintage content.

Site's Design & Usability
Admittedly, Babestation.TV is not the easiest adult website to navigate, but it's not that hard either. You'll get the hang of it if you pay a little attention. The site can appear a little cluttered with multiple features and ads that might be confusing at first, especially if you don't have a backstory of what the platform entails.
Once you've understood that you're there to pick a model to flirt with live or spy on some raunchy girl-on-girl action, it becomes a straight road. From there, "Our Girls" means a collection of tempting models you can choose from, and "Babestation Cams" features all the live girls from Babestation TV's sister channel, BabeStationCams.com (see our review on that site as well).

Other tabs you'd be interested in checking out include BSX LIVE, Phone Sex, BS News, Webcams HD, Babe IM CHAT & PICS, and Shows & Schedules (the platform's program lineup).

Basically, navigation is straightforward if you know what you're there to accomplish –every feature on the homepage suddenly becomes helpful and less confusing.
But what about the Cams?
True to their word, Babestation.TV offers you "gorgeous international and British porn stars," treating you to a palpitating, personalized, live sex experience. Unlike in their customary "Babenation"Sky TV edition, there are thousands of models (and way hotter in my opinion) waiting to indulge some of your bizarre kinks and fetishes over voice calls, live, or in public chat rooms.
Some of the biggest names in Europe's porn and webcamming spaces call Babestation TV home. You'll randomly encounter the faces of notable models like Violet Jade, Mikaela Witt, Marni Moore, Lucie Jones, Priya Young, Alice Goodwin, etc. You can send these hotties instant messages or call them for private sessions where you will run the show.
They have dozens of categories where members can head to and pick the girls that arouse them the most.
And Babestation.TV's VIP membership gives you all access to a library of pre-recorded cam shows going back nearly 20 years!
Babestation.tv  Screenshots:
Once again, we did the live cam test and loaded our account with credits. And we were able to communicate with the live model . Asked her to do a couple of things and she obliged. So yes, the models are real and the interaction was live and not recorded. In other words, you can trust the billing and the website to credit you when you make a purchase.
The different Credit Packages
The following credit purchases will allow you to interact with the models streaming live on any of the BabeStation platform.
For instance, BabestationCams, World Cams and BabeStation.tv

Here's the Credit packages menu: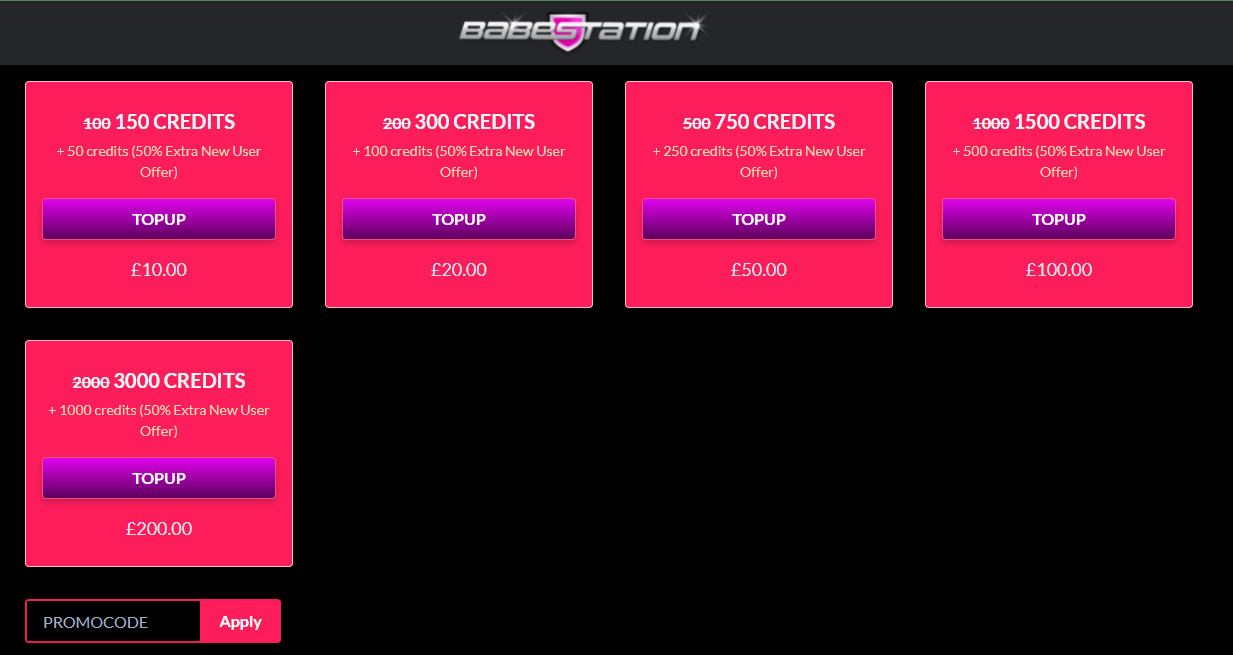 The Conclusion
With a good blend of salacious UK and international models, Babestation.TV offers you premium, live, adult chat services you can hardly find anywhere else. Although the prices are a little steep for their VIP membership, rest assured that you'll be getting value for money –tons of high-quality live sex shows, smoking hot chicks, and years of footage that never gets old.
If you have any questions or concerns about our Babestation.tv review please leave your comments below, we would love to hear from you!