About bongacams.com
Bongacams.com is a Netherlands-based cam site that started out in 2012 and grew into one of the most sought after webcamming platforms in the game. In their own words, "BongaCams is one of the largest and nastiest adult webcam community in the world and one of the best free live sex video chats and live porn sites on the web." The daily traffic that flocks to the site attests to the above acclamation. Bongacams is where thousands of horny, nasty, hot visitors get their fix with 'cheap thrills.' Anyone of legal age can walk into the chat rooms, and unload to erotic acts without paying a dime. Private shows will cost you though.
There are hundreds of live models at any specific time taking care of horny visitors looking for some viewing pleasure, and what better content than live porn and customized performances! Like most of its close competition, Bongacams has a global appeal –attracting audiences from across the world. The models are also drawn from diverse parts of the world hence you can indulge babes from multiple ethnicities: sassy Asian chicks, white, Latina, and ebonies. The platform offers a wide variety of content, which explains why it receives an enormous amount of traffic each day.
How's the site's overall design?
Honestly, they could do better! Not saying it is straight garbage –because it is not, but for a popular website of Bongacams' stature they sure have the capacity to lift the site's visual appeal.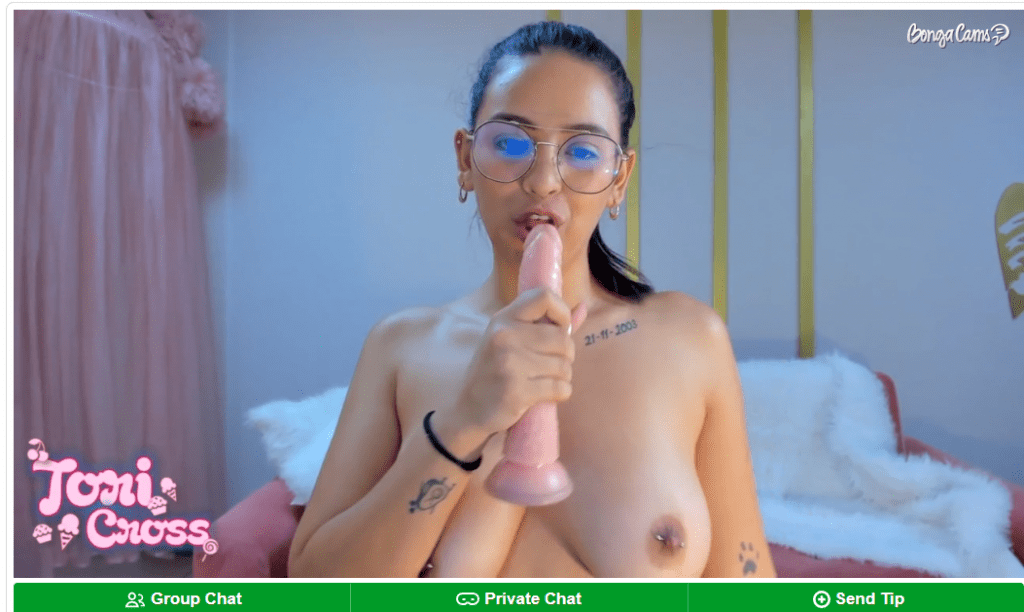 In terms of functionality, the website works just fine; faster loading, mobile-optimized, helpful navigation tools, and quite safe. They went with a white background with maroon strips which is quite basic, nothing extraordinary. There's a 'Join Now For Free' call to action message in green at the top right corner of the site adjacent to the login link for members. Too much stuff on the landing page, but once you get the hang of it, it's smooth sailing all the way!
The homepage is full of different models' profiles –live models for that matter. The view is titillating from a glance- perhaps a hottie grabbing her massive melons, another one toying her clearly shaved coochie while making that sensual face like she's inviting you to join in. You can tell from their reactions that you belong around here; you immediately feel ready to watch one of these hot girls and stroke one out. But wait! Don't rush through the site, as you explore more, you will realize there's still a lot of offerings to choose from than just the front homepage.
Alright, go on…
Okay, so you admit that you might have rushed things a little! Here's what you missed; Hundreds of couples chat rooms, males rooms where they masturbate on camera, transexxuals, and a whole lot of new chat rooms. You may have even missed an opportunity to go on 'Spy Mode.' The good news is that you can always revisit these places whenever you please.
The couple's chat rooms feature naughty couples doing it from the comfort of their homes. The setting in most cases is their bedrooms, and they will be armed with all of the necessary tools they need to enact an erotic traditional couple's scene. Admittedly, this happens to be my favorite hangouts, perhaps because it is technically live porn! Don't assume that all the couples in here are heterosexual because you'll be surprised to come across one of the best gay and lesbian sex around.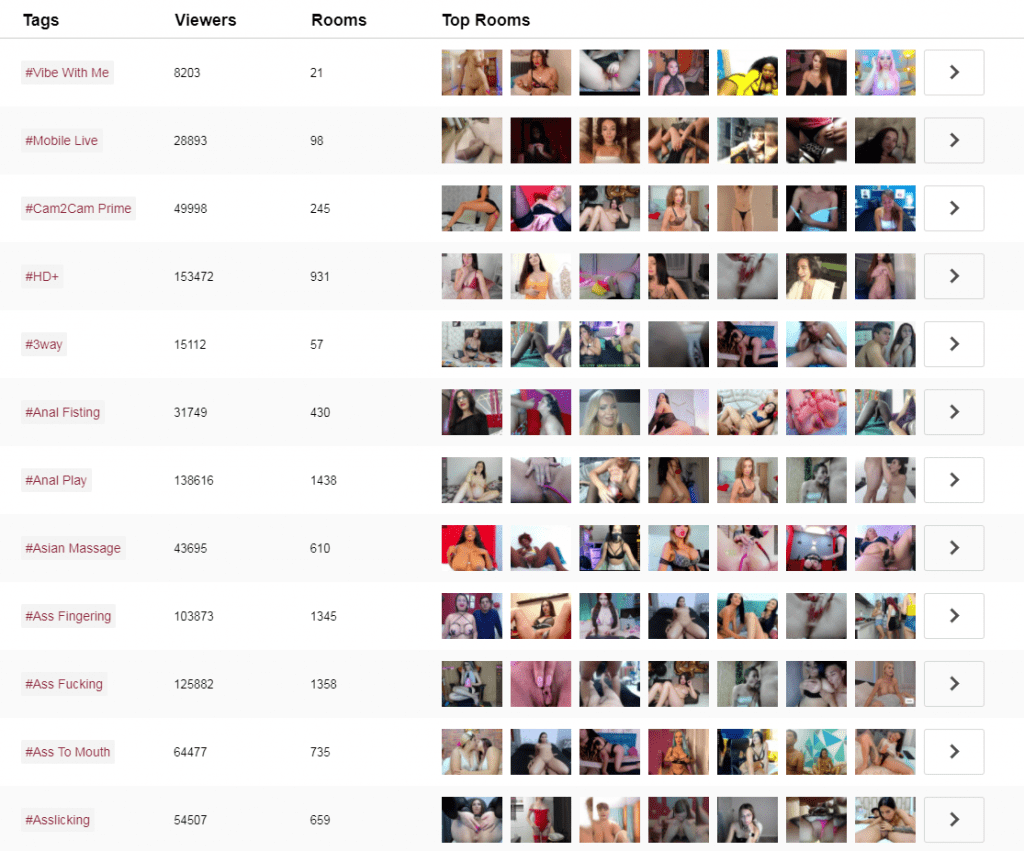 How do the Bongacams model perform?
The performance is everything from erotic foreplays, blowjobs, ass fucking, pussy rubbing, doggystyle, missionary, you name it, it's there! Some will be chatting with their clothes off while they occasionally rub their genitals. It is raw action here, no scripts just what the clients asks! Every couple has a hashtag of the kinks they'll be showcasing during their session. Using these tags, you can tell if the show is worth waiting for.
Lovers of pure male action are in for a treat around here too. There's an entire page dedicated for arousing male performances entailing vigorous masturbations, cumshots, asslicking, cumswapping, erotic anal play, dick sucking, dirty talks, butt fuck, a lot of ejaculation among several other acts. You'll come across all kinds of cocks in these chat rooms for your 'fantasy dick collection.'
Most of the shows are free like in many other chat rooms, although some of the dirtiest are always booked for private performances. The good news is that for a few tokens you can always spy on these performances. The guys, like the girls, come from all the major ethnicities, Latin, blacks, Asians and whites. After looking at a lot of cocks and balls, perhaps some sprinkle of titties and pretty looks can spice up the session a little. I'm talking about transexxual. Here you'll enjoy watching the trannies masturbate, get nailed, perform some orgasmic anal play, cum, chat, and finger their tight buttholes, among several other acts.
Wanna Orientate The Newbies?
Newbies are the newest members of the Bongacams family. They need to learn the ways of this naughty community of pervs and you may have the honor of initiating them. If you don't mind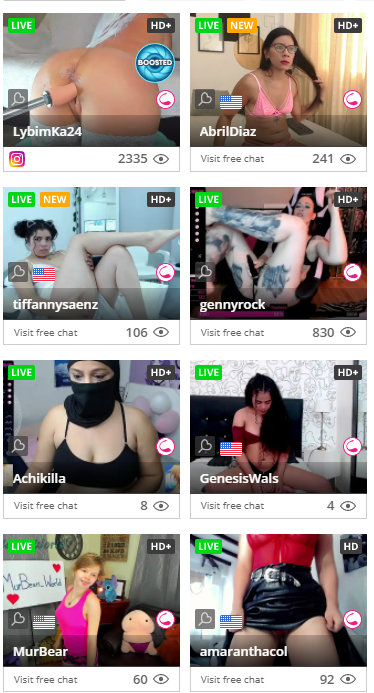 putting up with some novice who might not be as good as the site's top models then you'll love the 'New' page. Every newcomer takes their orientation here, and you are always invited. Common courtesy dictates that you spoil them a little, give them the 'Beginner's Luck' if you will, who knows, they might turn out to be your favorites in the long run. After all, each of the site's top models started out here. This page features all of the newest girls, boys and shemales all under one roof. The performances are the typical masturbation scenes, massage, sucking, ass play, live sex, among others.
So What Categories Do I Choose From?
The right question should be "What category is not listed on the site?". Bongacams has the popular categories listed alongside the number of active chat rooms in the category. For instance, when you click on the 'categories' link, a drop down menu would show a listing for say "Anal Play(611 Live)" to indicate that there are 611 available chat rooms where anal scenes are being enacted.
The other categories include Asian, BBW, Big Butt, Big Tits, blonde, Bondage, group sex, granny, shaved pussy, lesbian, teens, toys, squirt, name them! The number of live performances is drawn from the diverse primary classes of female, couples, males, transsexuals and new chat rooms.
Bonus Tokens To Watch private Shows.
You can enjoy the shows without necessarily signing up for a free membership. Now the problem with this plan is that they'll keep begging you to subscribe every time you click on an avatar to enjoy a performance. Well, you may choose to ignore but what's the point! They give you 5 bonus tokens you can use to watch private shows upon subscription. They also reward you with free tokens whenever you refer someone to the site. Signing up allows you to interact with the models one on one, perhaps have a heated cam2cam interaction loaded with sexual innuendos.
Why os Bongacams Good For You
The first thing that will keep you around is the website's massive offering. There are thousands of models both professional and amateurs to enact your crazy sexual fantasies and maybe indulge your fetishes. The models are spread across the world ensuring that someone is always online to take care of your sexual desires. It might not always be sexual, sometimes you can just chat with a naked model, they are good listeners and conversationalists –you should try them. Another thing about Bongacams is that the videos are streaming in HD. You are bound to have a nice time if you have a stable connection. Nonetheless, you can always pick a lower resolution if your connection is not strong. Models' saucy pictures also come in HD.
So what did we learn in this Bongacams review?
There is so much to Bongacams you can't get everything in a single review. Over the past few years the site has proven that it can compete against the top dogs in the industry. Bongacams has a total of 12 awards in multiple categories and 7 nominations. It boasts an impressive Alexa global ranking owing to the massive traffic that visits the site on a daily basis. To help you navigate the site with ease, Bongacams has a FAQ segment where it responds to some of the most commonly asked questions about the website. The website also has a 24/7 customer/technical support and a Help page for when you can't find whatever you are looking for on the FAQ section. Navigation comes easy once you master your way around.
Of course there's also a search bar in case you are looking for something specifically. Generally, the website is worthy of your time and resources. Enjoy your naughty sessions with Bongacams' salacious models –Have fun!
I hope you enjoy my HONEST Bongacams Review . As always, feel free to leave a comment or your own review below and feel free  to contact me on that page to request a website to be reviewed or even if it's just to say hello!
Bongacams
$3.30 to $4.50 a minute
The Good
Wide array of models
Cam 2 Cam in Free Chat
High Quality Cam Streams
High Quality Models
24/7 Customer Service
Mobile Friendly
Website translated in Many languages
The Bad
Tends to get expensive with some models
Too many pop ups on the site
Annoying watermarks on Videos
Most models are EU based