What's Camsoda?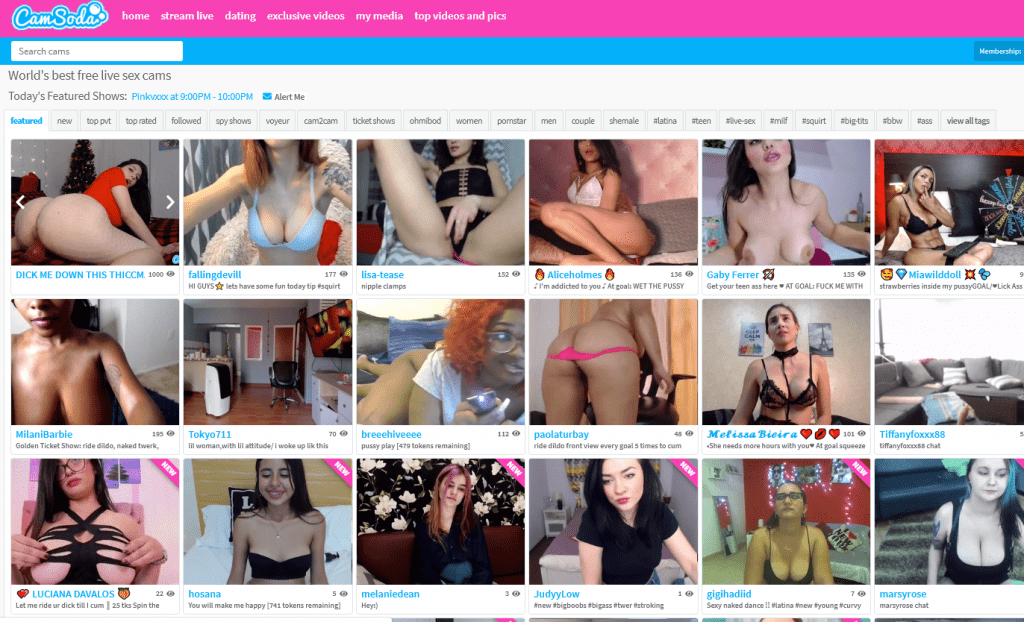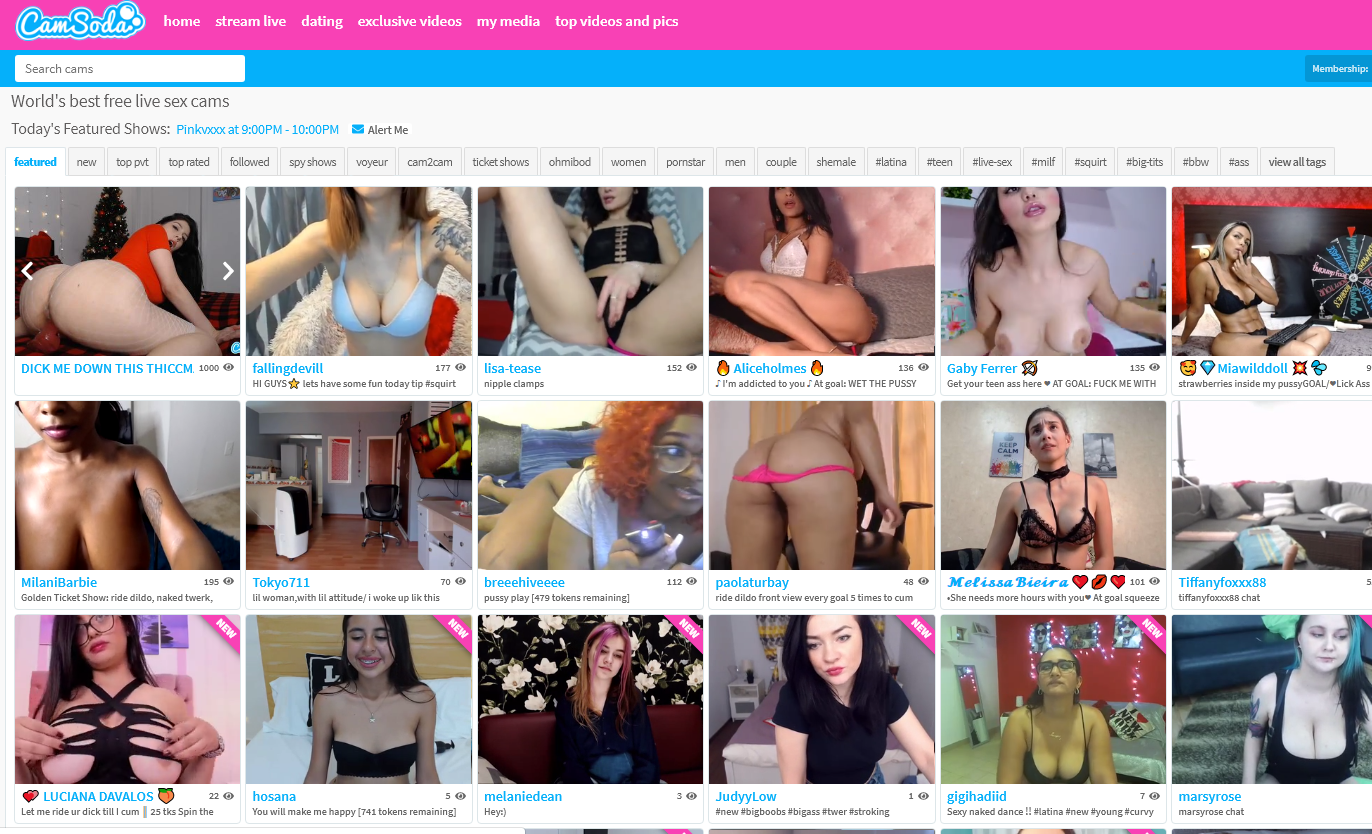 Camsoda.com is my go-to website for real-time hot pussies that just glimmers in pink and silver naughtiness. Damn, watching them knead and beat for my own pleasure gets me all turned up. From blondes to ebonies, they all sure know how to please their own beans and my cock 24/7. The variety of girls on the platform is so big that I just don't know which category to focus on MILF? Latins? BBWs? Holy fuck, which one do I start beating my meat to?
The site can also be a live dating site since girls around the globe chat here non-stop. Well, it's mainly a live-streaming site, but they also have a couple of exclusive videos that I'd be glad to check out with some bills at hand. I can choose from amateur sex-kittens from Spain or hot ebony girls from California. They have a few rules of tipping these pussies with tokens, only if I want to. Needless to say, I am the boss of this place.
How Do I get off on Camsoda?
The website is sleek and clean like my virgin sister's pussy – smooth but looks cheap. The site isn't heavy to load, so no time for waiting and more time for beating. I get to roam around girl after girl for free peaking at interesting live streams. The chatty atmosphere is light enough for me just to have a chill masturbating session. And if ever I want to rough it up a bit, a couple of tokens would save my desirable ass.
Being a member of the site gives me more options to cum. I mean, I get to interact with whoever I want and rate them if they are good bitches or not. It's like living the macho sugar daddy here. I get to send gifts to cute obedient girls or schedule a private show all to myself. Sometimes, spending a few dimes on some private session ain't an issue -you know, they sure put up a price cause they know how to please me well, shouldn't they? They know that they have to.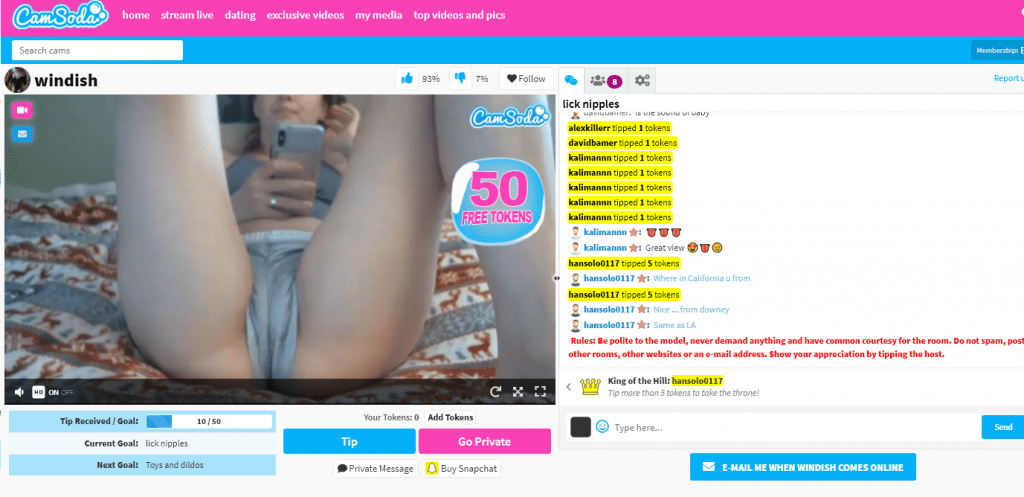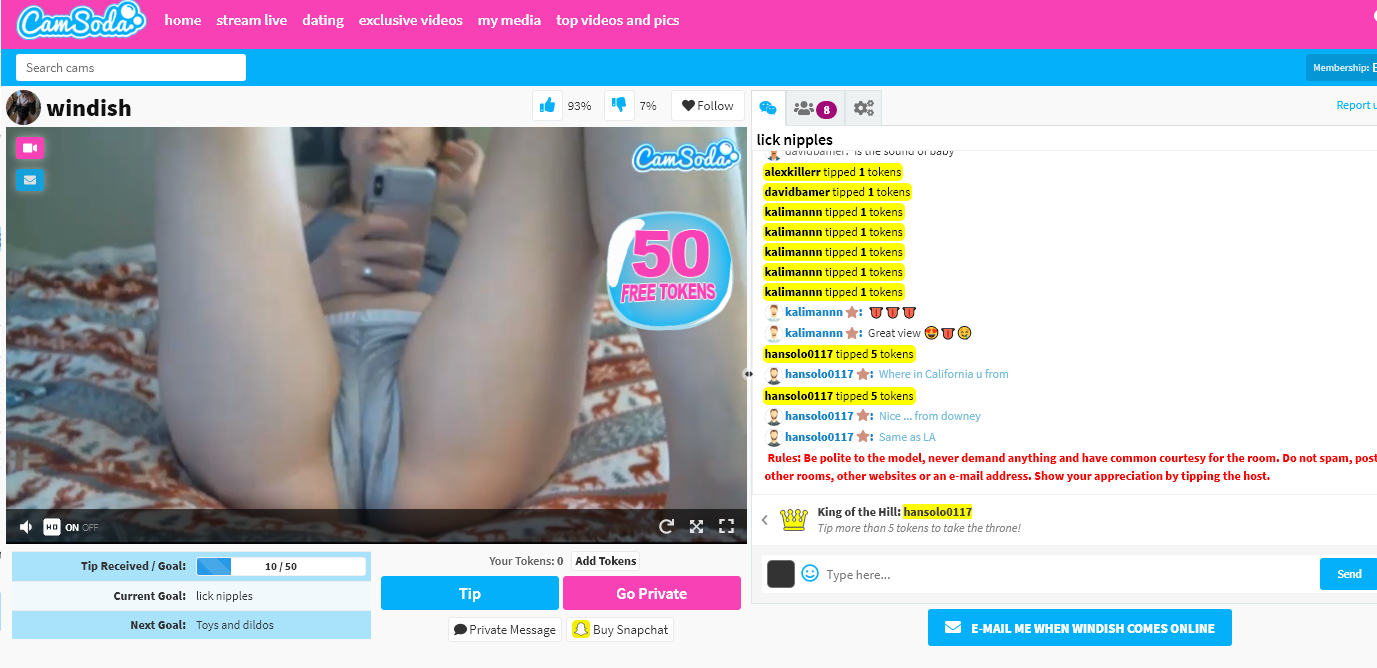 How Much for a Cam Show?
Camsoda knows how to please a user. There are two choices for my beating session – either I go on a buy per view payment or register to a cheap monthly plan and get 200 free tokens. The site rule is simple "spend more, beat your meat more." Be a regular, and enjoy anyone you like. If things go interesting enough, some of these chicks might actually consider a live-action with me, which is not impossible knowing how fuckable I am.

Let's take a quick look at their prices:
200 tokens FREE. (No ads, send PMs & adjust tip sounds with a $19.95/mo premium membership.)
50 tokens for $5.99
100 tokens for $10.99
200 tokens for $20.99
400 tokens for $39.99
550 tokens for $49.99
It's easy to monitor the number of tokens when I go buy per view mode. They process payments through Epoch and Segpay for Credit Cards. All of whom are trustworthy since Camsoda also posted contact numbers for each billing support. But so far, there have been not many complaints in billing processes. Also accepted on the platform are PayPal, Cryptocurrency , Wire transfers and Checks. So plenty of options to get yourself some tokens.
Our CamSoda Takeaway
Camsoda.com is good for the beginner nerds site. If you are too embarrassed to go meet and fuck real hot babes to satisfy your lust, then Camsoda might actually be your savior. On the negative side, I found the website to be a bit too flashy with colors and animations. The front page thumbs constant movements are annoying as hell and the dating advertising banners and links do really get on the way. The stream quality is OK, nowhere near the ones you can find on Streamate or  Chaturbate. On the good side, the quality of the interface is good for computer noobs. The number of performers and genres to choose from is wide and vast. And the payback with all their services are worth it – I mean a measly 20$ for a private bunny pussy? Not bad. It's also interesting how the site is so friendly I might have mistaken it for Facebook – if only there weren't pussies and big ass boobs fronting the screen.
Impressed with our CamSoda Review or you just want to share your thought and experience?
No problem, as always we have space reserved for you and  you can comment below.