A playground for porn lovers

I just love reviewing porn sites because it is exciting to look at porn from a different perspective. But what the heck, I'm human too and Digital Playground is for me to play as well! What I mean is the site is so obvious, it's difficult to write a review with a straight face. Digital Playground, without doubt, is a very big player in the porn industry, akin to a Honda in the automobile sector! You barely get to the login page and the girls just blow you away into fantasia! Clad in battle attire, wielding deadly weapons, they appear to warn you not to take them lightly. And right then and there, you start drooling for more! Exotic erotica, here I come! And come I will. DP or Digital Playground is so full of oomph, you'll never regret paying for membership. However deep I looked, it was difficult for me to lay my finger on a flaw of any kind- laying my fingers elsewhere was a simple thing to do though. It's because DP has such a voluminous collection of videos of high-quality.
Oodles of HD Quality Content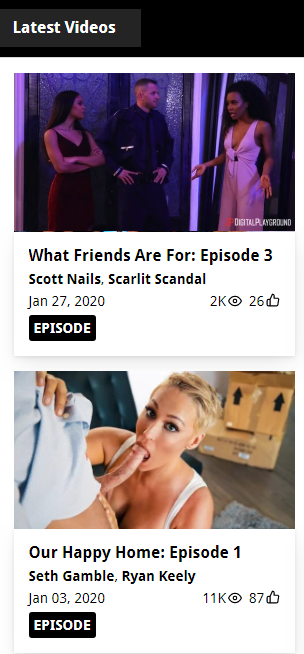 Although the number of scenes on DP may not get your adrenaline flowing, the quality will. A quick look into the library showed me that there are 4059 HD quality videos from the hottest producers on the planet. They are all full-length scenes- unlike the half-baked ones that you see on poor quality cousin sites.
The streaming is Flash based and allows for multiple format viewing but full HD is obviously the most frequently used. This ensures super clean and crystal clear picture quality, and awesome sound. This is good news for people who appreciate top class streaming. There are also around 4000 galleries, each with over a hundred pictures- again in high resolution. The galleries feature over 1600 girls and you can bet your ass they are all oomph material. That speaks volumes for the content on Digital Playground. Although DP does not have a regular update log there are 4 to 5 scenes added every week. That is pretty good considering the industry's average and ensures you have new stuff to watch week after week.
The DP Interface- Cool or not?
The design on DP impressed me quite a bit. Although it has all the regular stuff porn sites have, it is quite simple and easy to use. There's a lot of clarity here on what you ought to do, without being taken for a ride. In other words, it is not too crowded- chiefly because it is not cluttered with promos and annoying banner ads! Navigating back and forth between different sections is a breeze- you don't need to really look too deep into it. The DP menu is clean and bold- very few porn sites allow for such clear navigation. The response to your clicks is fast too. You click and it happens- you're taken to where you wanted to go in a jiffy. That speaks volume about the amount of time and energy they have spent on the functional technicalities. The social media icons are neatly arranged at the bottom in a black tab such that you don't miss them- but yet they do not intrude into your space, cluttering things that you have actually come here for.
Member Area Screenshots
Let's talk money, honey
The kind of top-notch content that Digital Playground boasts of does not come free! Yes, DP is a premium site. If you're looking to enjoy its jaw-dropping content in full rather than bits and pieces, you need to buy a membership. Being a member entitles you to a lot of privileges on DP. But you don't need to jump into it all at once. I'd suggest a trial run- a 3-day trial costs just $4.95 and that should be a clincher- whether you want to or not want to become a member. And knowing what I saw in the member area, I can assure you that you'll sign up for a full membership after the Trial, holding your member in one hand while the other taps away at the keyboard! The good news here is there's a huge price cut when you sign up as a member for a whole year. It costs you just $119.99 which works out to only $9.99 per month. Whereas a monthly plan costs you $29.99 per month.
There is a go-between- the 3-months plat for$59.99, which works out to $ 19.99 per month. With all those raunchy videos out on the site, I'd blindly recommend you take the annual membership. You will be pretty pleased too because you won't have to break the bank (and the wife won't notice it)- some of the porn sites out there demand really exorbitant rates. There's one downside though- DP does not allow you to download videos unless you are a VIP member. Meaning, additional costs if you want to be able to download your favorite scenes.
My Final Verdict
Digital Playground is a no-nonsense porn site boasting of some of the most notorious videos and porn stars on the planet. With fabulous content and High Definition quality to boot, it qualifies as a top paid site and to which one can subscribe. The design is on point, the ease of navigation is excellent, and other functionalities are really easy too. Although when I think of downloads it leaves a bitter taste in my mouth, DP is still worth more than I will pay. So, if I had to choose between good bits of free porn and excellent full scenes that cost me some money, I'd settle for the latter. Just because all the good things in life do not come to you on a platter or for free.
If you have any questions or concerns about this review please leave your comments below, we would love to hear from you!
Premium Porn List - The Best Porn Sites List of 2023
Average rating:
0 reviews