About Imgur
Imgur is a vibrant image hosting platform founded in 2009, like Facebook, Imgur began in a college dorm room. The social media site is growing exponentially in recent years. Imgur has an active  monthly user base of over 300 million, and ranks #15 on Alexa in the U.S. This site is ripe with advertising opportunities thanks to its predominant demographic of techy Millenials who popularized the culture of digital image sharing, memes, GIFS, and visual stories.
Imgur's major milestones
Imgur made big strides since its launch a little over a decade ago. Just after its official debut into the social media scene, Imgur introduced the Gallery –where popular posts are voted on by users and showcased for easier access to everyone. Then, in 2011, the site scooped the Best Bootstrapped Startup Award at the Techcrunch "Crunchies" Awards. Three years later, the Imgur crossed the 100 million active monthly users milestone, then 150 million in 2015, 250 million in 2017, and on its 10th anniversary, saw a whopping 300 million and counting users. All the while, the site has continuously augmented with new features and millions of dollars raised in seed funding among dozens of other great achievements.
The site's design and usability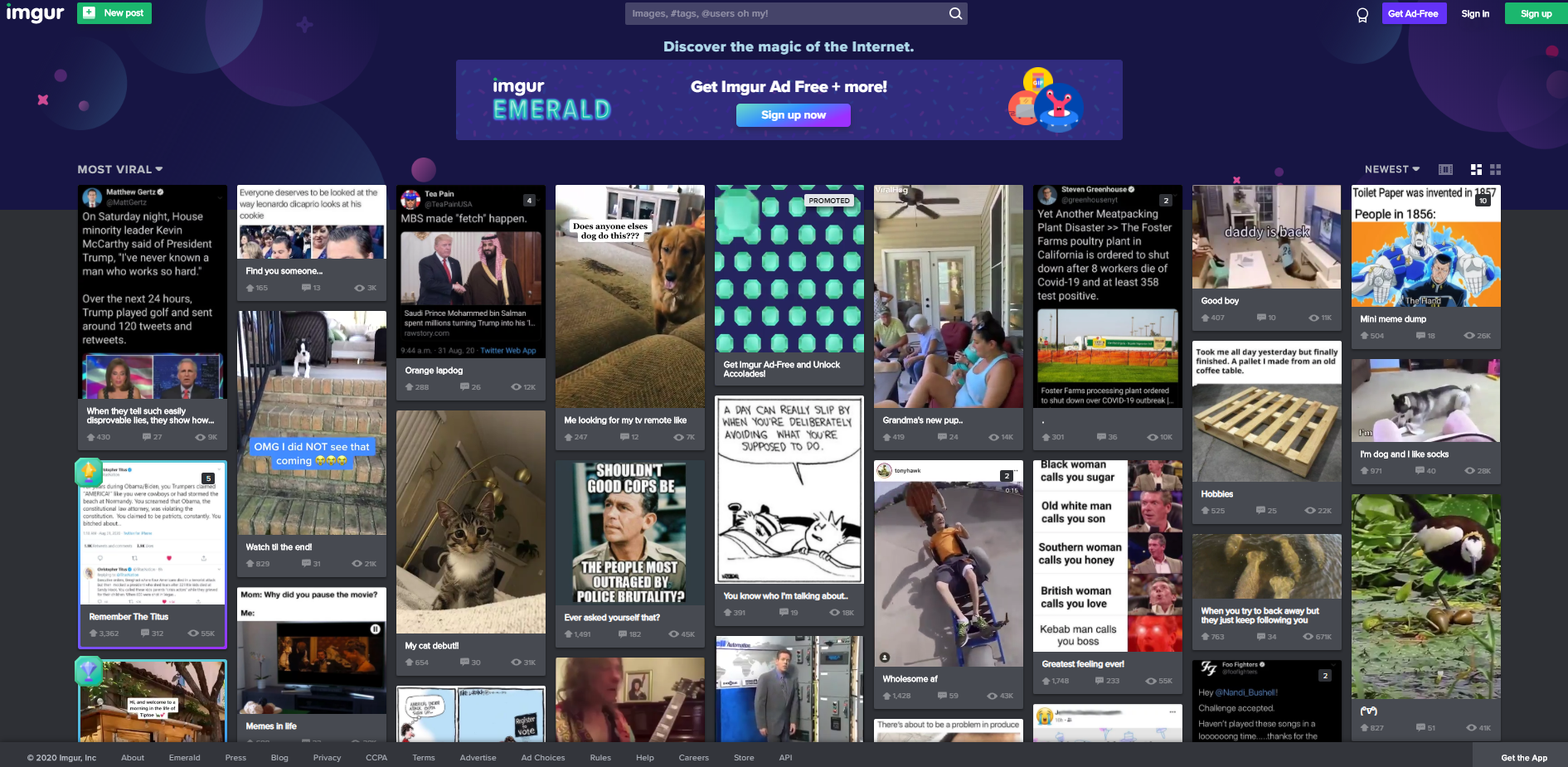 Imgur is a simple platform that is quite easy to use. It comes in a stylish design with impeccable aesthetics and clear navigational paths for better user experience. Every important feature is easily accessible from the homepage further simplifying navigation. The platform has a helpful advanced search bar which you can use to look for particular content like images, hashtags, and specific users contributions. The most viral content appears at the top of the homepage, but you can change this feature to user submitted or highest score. The posts feed running from the RHS of the homepage can also be sorted from the most popular, newest, best, and random. You can also disable autoplay if you don't like surprises.
More than just entertainment 
Imgur is those simple ideas you look at for the first time and wonder why no one else thought along those lines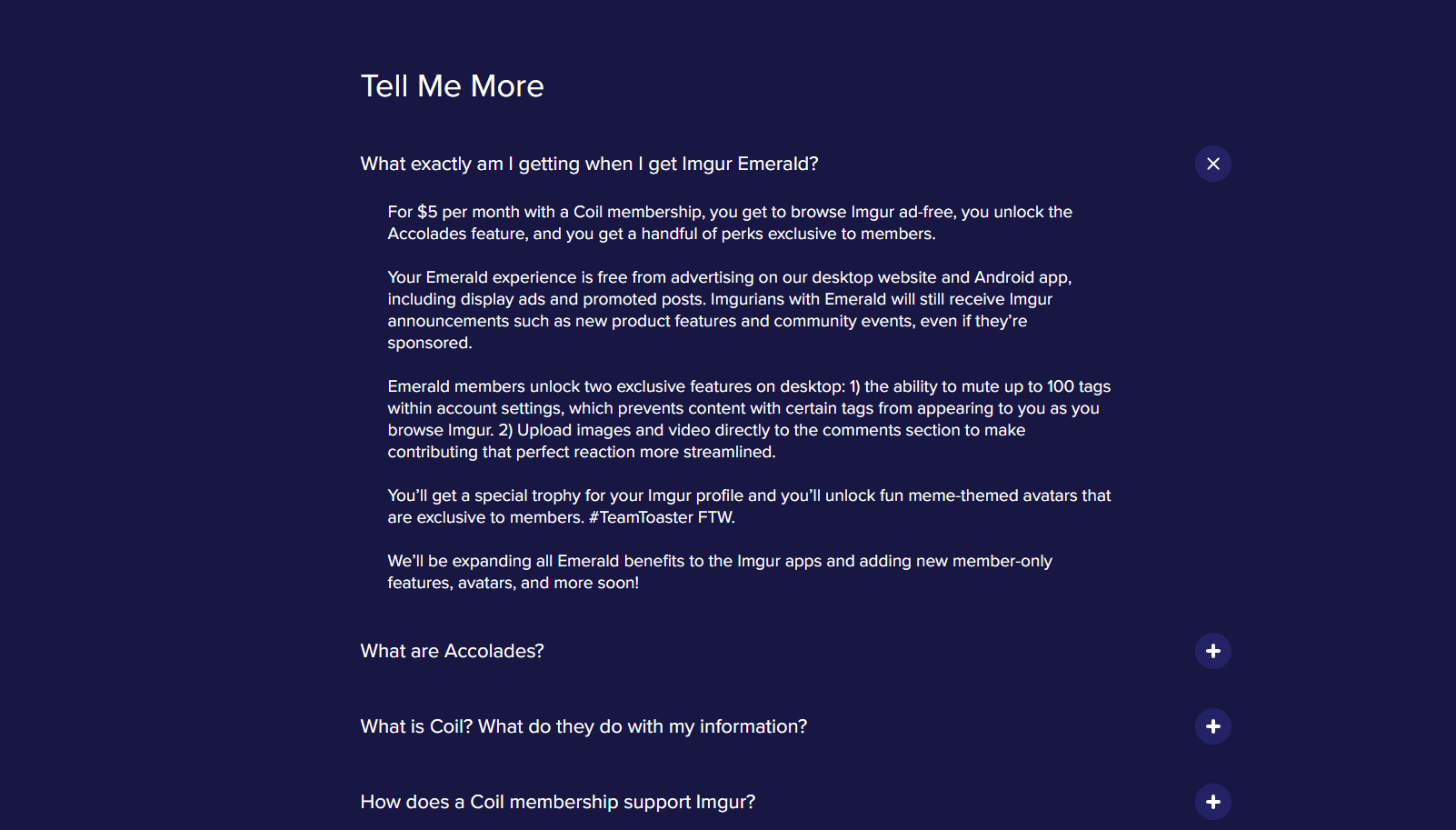 before. Anyone can use the site without necessarily creating a username or filing in their personal information. Even with a username, other details like age, gender, and location are not available to users allowing for anonymity. This provision allows users to open up freely to fellow Imgurians about serious intimate topics like relationships, mental health issues, career struggles, among several other important topics. Imgur has successfully managed to create a healthy community of users who uplift each other at their lowest. The community is free of scammers and sadists cyberbullies.
Want an ad-free session?
Like most social networking sites, Imgur too relies on ads to keep its doors open. However, they are not rude about it and even provide an alternative for ad-free browsing. For only $5 a month you can score yourself the coveted Imgur Emerald, a coil membership that affords you an ad-free session and a handful of other exclusive perks. 
Want your healthy share of the internet? Well, try out the Imgur experience and live to tell the story!  
Update on 05/15/2023 : Imgur has now banned adult content on their platform. They will start purging old and anonymous uploads. The service says it'll be removing 'nudity, pornography, & sexually explicit content' as a result of a new terms of service going into effect on May 15th.
Source: TheVerge  and Wired.com.