About Planet Suzy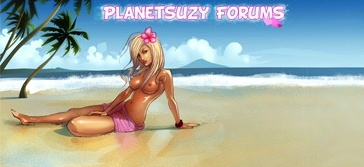 Planet Suzy is an active community of porn enthusiasts discussing and sharing everything porn! It's among the first porn forums on the internet that has surprisingly managed to remain relevant for many years. It has an astounding user base of over 1.2 million members, and has hosted over half a million threads and an excess of 19 million posts. The platform has a strict pecking order made up of Junior Members, Registered Users, Hall of Fame, PlanetSuzy's Hotties, Moderators, Super Moderators, and Administrators. Moderators, Super Moderators, and Administrators are the forum's staff working tirelessly to weed out spammers and annoying idlers creating chaos in the respective forums. 
Anyone that joined the site after November, 5 2010 is automatically a Junior Member and has to prove their worth and discipline to be promoted to a Registered User. Junior Members are allowed to post anywhere except on Pornstars/Adult and Teen Models (PATM) –the most active forum reserved for the site's upper echelon members. Retired moderators or super moderators get a reservation at the Hall of Fame. VIPs on the other hand, are the most distinguished members of the forum voted by the site's staff based on their notable contributions to the forum and discipline. This group of members is exempted from certain rules that apply to other members of the forum. 
What's in it for me?
How about tons of porn videos, pictures, and discussions with fellow enthusiasts! Like many porn forums, Planet Suzy does not have its own supply of porn and relies on its active community of users to fill in requests. As such, most of the content on the forum can only be accessed off-site. Members looking for specific content start a request thread or a post with the description of what exactly they are looking for. Whoever has what has been requested posts it on the thread. The amount of porn people have on their devices is surprising to say the least, including recent and vintage porn. A lot of content is free while others come with a price tag. You'll find everything from titillating girl on girl films, gay porn, amateur content, and celebrity sex tapes among others. 
I'm afraid of spam!
Everyone hates reading spammy forum threads, and a forum of this Planet Suzy's magnitude is always a breeding ground for spammers. Thankfully, Planet Suzy's moderators are working overtime to keep the forum safe for everyone. (thank you guys!) They do not hesitate to temporarily or sometimes permanently ban members acting like total dicks on the forums. Don't worry, it is safe in there! How do I know? My membership goes back 12 years.
How's the site's design and functionality?
Planet Suzy runs on an optimized vBulletin template customary for many porn forms. The design's aesthetics may not score very high, but the site's overall functionality is exceptional. Sections have labels and the moderators do a great job ensuring that content is showing clearly in the right sections. Navigation is pretty much straight forward, but you can always contact support whenever things get a little hazy.
To sum up, Planet Suzy is the best deal there is for adult forums and porn enthusiasts alike!
Did you like our Planet Suzy Review? Do you have any comments or want to post your own review? Please comment on the box below and let you know when you think.