When it comes to Free porn tube sites, Pornhub.com is pretty much the 24/7 all you can eat Buffet. Looking for some old school Rocco Siffredi banging some hairy French twat back in the 90's? They have it! In fact… if you wanted a 1985 Gay Latino Midget fucking a Amputee lesbian with a 10 inch strap-on dildo, they'll probably have it too!
Now, we know that there is over 200 000 tube sites out there, but Pornhub just stands out from the rest; the site offers an insane amount of videos (5 Million+ Videos) for free, of course you can upgrade your free membership to a Premium membership access.
The videos are arranged by categories, which can be very handy if you prefer some specific kinky fetish, like Nuru Massages or Ball Busting.
Here is the break down of what you exactly get on Pornhub.com with the different accounts status: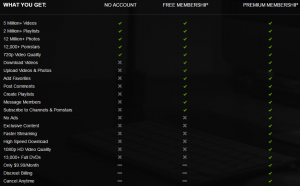 Getting a free membership and creating a profile will give you instant access to Downloads, HD Videos and Photos uploads, add to favorites function, post comments, create playlist, member messaging (handy if you want to hook up with the cute MILF next door) and of course subscription to Channels and Porn stars.
The Premium membership will give you all the Porn you can dream of, hard to find exclusive videos, a much faster Video stream (1080 HD), billing is discreet and easy to cancel. For $9.95 a month, it's hard to find a better deal with no ADS.
Alright, hope you liked the review, I am usually not a huge fan of Tube sites because of the ads and the amount of crappy videos they often offer, Pornhub is however different, they carry higher quality videos and a very convenient Advertising-Free options. So make sure you check it out!
If you have any questions or concerns about this review please leave your comments below, we would love to hear from you!
The Good
Amount of Videos
Translated in 10 languages
Fast Video streaming
Mobile Friendly
GIF's and Pictures avalaible
User Interface ( Playlists, Favorites, Downloads, Profile interaction...)
The Bad
Pop up ads
Banner ads (14 on the front page)
Upsells to Premium
Upsells to Webcams
Upsells to Dating