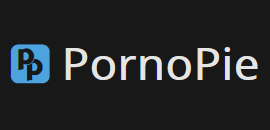 PornoPie.com is a very easy to use tube that will give away a lot of free porn. They will not waste your time with annoying advertising– right from the get go,  you will set your foot on their homepage and see a massive list of popular videos. When you know what you want to watch, just click on on that particular thumbnail. A new window will open and you will be taken to an external porn tube – they don't host their own content, but as long as the videos play as smooth as a baby's ass, we don't really care. It is not really our problem how and where they are delivering the video content from.
The sidebar is pretty cool. It will allow you to see the popular porn categories alphabetically. They offer amateurs, big tits, creampies, ebony, Japanese, massage, mature, MILFs, step moms, teens, threesome and so much more. Click on any category and you will be taken to the actual list of video clips. Pretty simple eh?
The top navigation bar will allow you to swipe the content between top rated movies, most viewed videos, new ones and random porn movies.
The site is completely free and it has a nice clean design, and there are no pop-ups, banners or ads – that's always a big plus! So if you want my advice, you should visit them and give it a (cum) shot– they have enough porn to keep you busy for a pretty long time.