Ultra Real Sex Dolls Store
The sex dolls industry is continuously evolving year after year. Research is done in materials, designs, and technology that will make the sex dolls feel as real as a the girl next door. And if you care about the quality of your sex doll, but you also want to pay a reasonable price for it, there's one site you need to check out. That site is URDolls, and it comes with some of the most realistic dolls on the market. Besides, they also offer a large variety of models for any fantasy and different material options for any needs. So please read on, we had fun writing up that URDolls review.
Enjoy Ultrarealistic Experiences with the New TPE Sex Dolls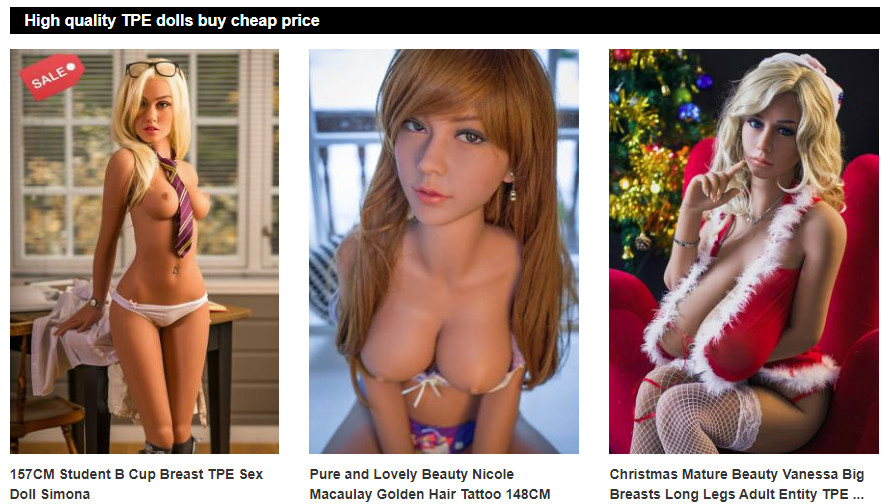 First of all, let's talk about materials. The latest trend on the market is the TPE technology. Thermoplastic Elastomer is a new mixture of plastic and silicone that increases the realness of your sex doll. It's soft to the touch, it's extra flexible, allowing you to bang your doll in any position imaginable, and my favorite feature of them all, it will jiggle. But TPE Dolls are princesses. You will have to care for them as you would for a real girl. The material is pretentious, and it needs careful cleaning and protection from the heat. But the satisfaction offered by such a doll will make you want to care for her at all times. Here's an excellent selection of TPE Sex Dolls from URDolls, which includes sexy barely legal school girls, matures with immense boobs, thick chicks with massive asses, and Emma Finn, one of the most beautiful and seductive sex dolls you will ever find.
These Silicone Sex Dolls Can Take It Rough
If you are the kind of man who is more brutal when it comes to lovemaking, you might want to choose one of the Silicone Sex Dolls of URDolls. When it comes to realism, the body of a silicone doll feels harder to the touch. But they make it up through realistic genitals. Silicone perfectly imitates the feeling of real vaginas and asses when wrapped around your shaft. The resistant material also means you can rough up your doll without worrying that she will get stained or scratched. The price is a bit lower, but that shouldn't matter when you make this choice.
Girls for All Fantasies on URDolls

No matter what your dream girl is, you will find a sex doll that matches your desires on URDolls. As you might wish and expect, the most popular girls on the site are the Japanese Sex Dolls. That's the most common fantasy amongst men who want to buy a sex doll. They want an obedient cute girl that's always ready to submit to any of their urges. And who could fit that profile better than a Japanese woman? But URDolls also covers so many other fantasies with their girls. They offer European style dolls, but also some Ebony and Latinas sex dolls. When it comes to breast sizes, you can choose anything from flat-chested to monster tits. They even offer BBW sex dolls and pregnant sex dolls. You want to satisfy your hentai fantasies. Go for the anime sex dolls of the site, which are designed based on famous characters. And if you want the actual realistic experience, the Smart dolls are what you need. They come with a high-tech motherboard and functions like blinking, shaking, and intelligent dialogue. Also, URDolls is the site that thinks about everyone, and they come with a selection of realistic male sex dolls, which are ready to please men and women alike.

Easy Shopping on URDolls
URDolls is offering a large variety of products, but they also have a well-designed shopping platform, which will help you browse through the dolls for the ideal one. Many filters based on body type, material, manufacturer, and the price will let you customize your browsing and compare between models to choose the one that fits your needs the best. Once you find your sex doll, you can start customizing it, which is probably the best feature of the site. The customization includes skin color, eye color, some come with pubic hair options, some will let you choose between a built-in vagina or a detachable one, and others come with multiple height options. Another thing that makes URDolls stand out is the huge amount of information they offer on sex dolls, both for how to use and care for them in general, but also on each model in particular. If you want to buy your first sex doll or your second one, URDolls is the right choice.
We hope you enjoyed this URDolls Review! As always, If you have any questions or concerns about this review please leave your comments below, we would love to hear from you!