Nothing's as good as a Virtual Reality Fuck!

The best thing I like to do when my girlfriend is away is to review porn sites- because, besides earning me  a couple bucks, it keeps me geared up for the next performance when she returns! For a change, I looked up Virtual Reality sites and what I saw set my heart pounding- The rush of blood was so pronounced that I hoped my girlfriend would be back asap! This is precisely what made me think that this site- vrporn.com, is so fucking good, it is probably one of the best VR porn site at the moment. However, I also was a bit  disappointed because a fair amount of clips were just that- clips. Very short clips. If you prefer to watch long scenes, you can- but you have to become a premium access. Ready to get into the thick of hot things? Put on your goggles (take off your pants) and become a virtual part of all the great action with the hottest Porn Star such as Riley Reed and Angela White.
Content like you have never seen before!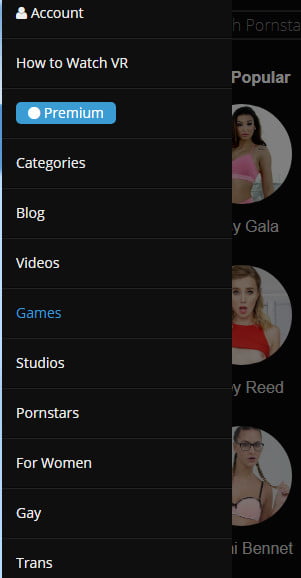 VRporn, on first impression, seemed to have a great amount of content, going by the home page. It is pretty easy to realize that all of the content here is geared to Virtual Reality fans and users. Surprisingly, this site is dedicated to providing you with a great VR experience – all the content here is VR and you can download in Vive, Oculus Gear, Smartphone and PSVR formats. This is unlike most of the sites that provide VR content in just a small section while focusing on the regular stuff. The models, too, bring in a breath of fresh air as most of them are new in the industry.  Also thrown in are a few thicker models, to break the monotony. Something that I personally did not appreciate are the clips showing female masturbation which are not a great turn-on.
Another feature you will probably love is the female POV scenes which are targeted at women viewers or subscribers.
Certainly, a good trend because the action is viewed by a woman with the men out to please them out of their skins! It is a newer trend, I guess. There are hundreds of scenes to check out in the free area but most of them are short clips of around 6 minutes or less. There are but a few full-length movies. For the premium member, however, there are more than 1900 super-hot and full-length videos averaging around 30 minutes each. And the variety is mind-boggling as they come from different studios. That is a lot of virtual reality porn!
Great design, superb functionality
Vrporn.com was set up as early as in 2013. The design and functionality have to be experienced to be believed. You get a classic feel the moment you land on the site- the blue and white combo of text against a stark dark background instantly gives you a relaxed feeling. Free of unnecessary clutter, the site is actually a treat for your weary eyes. The slim bar, again dark, with the logo on the left, search window in the middle and the sign up/login buttons on the right sends a straightforward message that the site doesn't intend to play around. Just below is the menu and a helpful one at that- just the Home, Categories, Porn stars, Studios and Blog tabs are showing. Each of these tabs opens up to display neatly laid out options. The blog is a remarkably unique feature for a VR porn site and exceptionally good too.  You also have a toggle menu right beside the logo on the top left. This has additional tabs- How to watch VR, Videos, Games, For Women, Gay and Trans. Incidentally, the "games" tab takes you to a section on the same site rather than a third party one. But if you thought you can play games here, you are in for a huge disappointment. There are just recordings of gameplay. So you really can't fuck around with the games. An extremely helpful feature is the "How to watch VR" section- especially if you are a first timer. They go to great lengths to explain everything about VR including what type of headset you need to use for a great viewing experience.
Affordable VR Porn!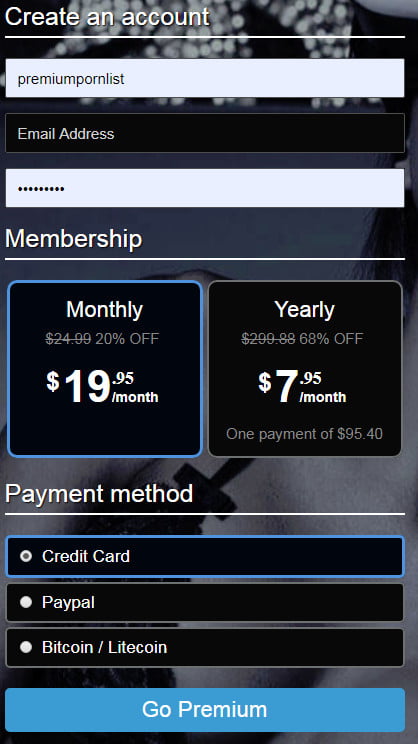 Getting Virtual Reality porn for the rates of regular porn is simply amazing. Nearly 2000 high-quality action clips from 62 different studios are accessible by the premium member. A full month subscription costs $19.95. A full year's membership costs only $95.40. That is at an amazing offer considering it costs just about $7.95 a month! I haven't come across such a fantastic offer even from mediocre sites. And that is saying a lot in favor of vrporn.com. Considering the fact that the site is ad-free, I'd conclude that this is an excellent offer.
Can it get better than this?
I can think of just one negative point on this site- the extremely short length of the videos provided for the free membership. Of course, there are a few long ones but would have expected a bit more. But then again, the intention may be to just give a glimpse of the fantastic experience of VR itself.
I must admit too that the price at which you get full membership to almost 2000 very high-quality VR videos is stunning, to say the least. I dare say that vrporn.com places user experience above everything else. There is no other reason for a porn site to have such a wonderful blog! The site also has a great social media presence where there is actual interaction and regular updates.
VRporn.com Screenshots:
Conclusion on VRporn.com
To sum it all up, I suggest you become a member here- especially if you are trying out VRporn for the first time.  You can look but you probably won't find a VR porn site with that much VR content at this Price.
If you have any questions or concerns about this review please leave your comments below, we would love to hear from you!