The Best Amateur Webcam Shows?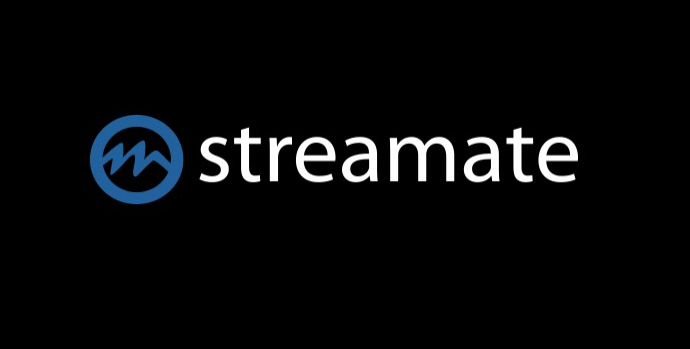 One of the earliest webcam chat site on the World Wide Web, Streamate.com has a rich history and is considered the pioneer in the world of live Adult webcam. Although I have been visiting this site for just over two months now, I have gathered enough information to give you readers an honest review. Really, my balls ache for more action. And with more than a thousand really sexy models active and rocking at any point in time, it is pretty easy to squeeze in on one of them. For your attention and information, there are over 40,000 webcam models registered on Streamate- and they are there on the site for you to see!
What's Streamate got?
Most of the models on Streamate are amateurs teasing and masturbating in front of the cam in the safe confines of their homes. However, there are the professional models too and some top class porn stars who can give you a run for your money. At first glance, the categories may seem inadequate but you'll be pleasantly surprised when you go to the advanced search. I was overwhelmed by the variety of options I could choose from!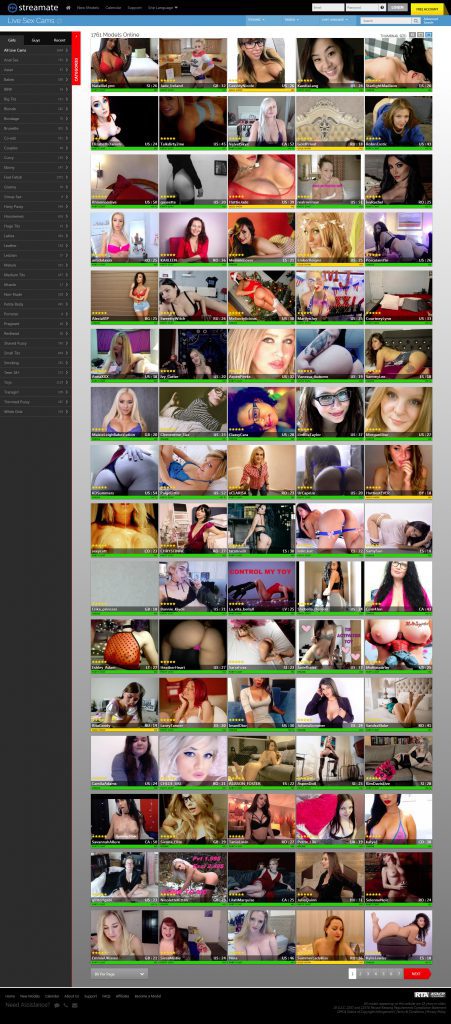 Like diversity? No worries! Streamate will let you pick from gals, guys, couples and trans- it's all up to you. Furthermore you'll be able to nit-pick from a wide milieu- be it body type, orientation, features, different age groups and an array of languages. To top it all, you can go in for a fetish of your fantasy! It can't get better than this, can it- you go through almost 20 tick boxes to eventually hone your search. And that lets you believe that you are in good hands- with an environment to match. It's pretty cool and relaxed. Once there, it dawns on you that best of it is not free- obviously, it's a paid service.
The amateur cam gals make a considerable amount of money by the way of tips. Above the free rooms are the exclusive private chat rooms where all the exotic action is. The business model is a good one with the models making quite a lot of money by way of tips. Though you end up paying a neat sum to have your requests fulfilled, you can hang in the free chat for free. They are not really misers and have a lot of dole for you on the free side as well. There are the unmissable free webcam chat rooms and scheduled shows. Streamate even has a free photo gallery where you can ogle at the models all you want. The icing on the cake is, of course, the free video gallery!
User-friendly design gets thumbs up!
Launched in 2003, Streamate has stuck to their basic layout without undergoing drastic changes. Because of it, it has kind of become the industry standard. You find most of the other sites emulating Streamate. There's nothing jarring about this site, including the well thought out color scheme. In spite of all this, they manage to grab your eyeballs and more to the seductive tit bits! One of the better features is the 'About Me' section where the sexy models get to introduce themselves. They give you enough info- their age, sexual preferences, acts they like to perform, etc. which helps you choose better.
There's an area for member comments too and this is a good feature as you can gauge the models by the comments they have received. (Yes, just like on Amazon) Then there's the 'My Schedule' section where the webcam model can choose to detail her schedule over a few days so you know when you when to come back for more, if at all. The 'My Photos' section will show you sexy pics of the models. You can see and get even sexier, explicit pics of your fave models in the 'My Paid Photo' section- obviously not free. Last but not least, you have the video section. Here too you have the option to buy a kinky video if you want one. The chat itself is classified into sections – Free Video Chat, Private Chat, Gold Shows, Exclusive Chat, and Discounted Block Sessions.
Is Streamate pocket-friendly?
Streamate, although not a free live amateur webcam site, has a load of freebies for unregistered users and that is saying a lot. So there IS a free chat.
The prices of the paid services are generally reasonable, the average private chat show cost works out to $2.99 per minute but can also drop to about a dollar a minute. (cheaper than a strip club and you don't get to smell like Cheap Perfume) The highest slab has a few pros charging a whopping $12.00 per minute, can you believe it? So, you see, there's a lot in between, decided by what exactly you are looking for. But generally, private or exclusive cam chats come at a dollar per minute. Other types of money exchange on Streamate is when you make a purchase or use Gold currency. The payment methods accepted on Streamate are Visa, MasterCard, Discover, and PayPal.
Time for the verdict!
Streamate.com certainly knows the tricks of their trade and are running an excellent business. With a wide array of fetishes that are open for exploration around the clock, it probably holds an edge over other sites. An additional boost this site gets is due to the face that the "free' area can be accessed 24/7 without registering. The pricing, too, is on the friendlier side. And with a cap on daily spending, a user does not tend to overspend inadvertently. Streamate may not necessarily be the number one live cam site but they are definitely up there as a possible contender. To sum it up, the site is very user-friendly, quite affordable and the models utterly sexy- they give you your money's worth!
If you have any questions or concerns about this review please leave your comments below, we would love to hear from you!
Streamate.com Review
$1 to $2.99 a minute