What is it?
I laughed a little when it was time for me to do the USASexGuide Review because (just like eroticmonkey) I have known the site for years. Yep, that's right. I have used it and for good reasons. The main one being not getting scammed when visiting local massage parlors. Enough about me, let's get to the review! 
USA Sex Guide bills itself as the largest sex travel website on the web and you're about to find out if it lives up to the hype. It's a platform where sex tourists exchange information about their erotic adventures, share their experiences, and recommend or warn fellow 'tourists' against certain destinations or escorts.
With close to a million members, 14,000 threads, and about 6 million posts, USA Sex Guide is making a good case that they reign the sex guide division on the web. The platform is a little bit of everything but certainly not a dating site and not entirely an escort site.

A good bulk of the content here is from the dozens of active forums and includes reviews, stories, humor, and tons of sultry pictures in the gallery section.
Appearance, Signing Up, & Functionality 
Let's be honest here, USA Sex Guide looks like it was designed about two decades ago, and they kept adding new pages and no one cared about the rusty appearance.
It has a Dutch-based domain while it appears as most of its visitors are in the U.S. judging by the activities in the forums.
Because of the amount of advertising, the site appears cluttered, and you might need a few seconds to figure out what you want to look at. They have a list of states and cities on the homepage that will help you navigate, and you can check out the different threads without registering.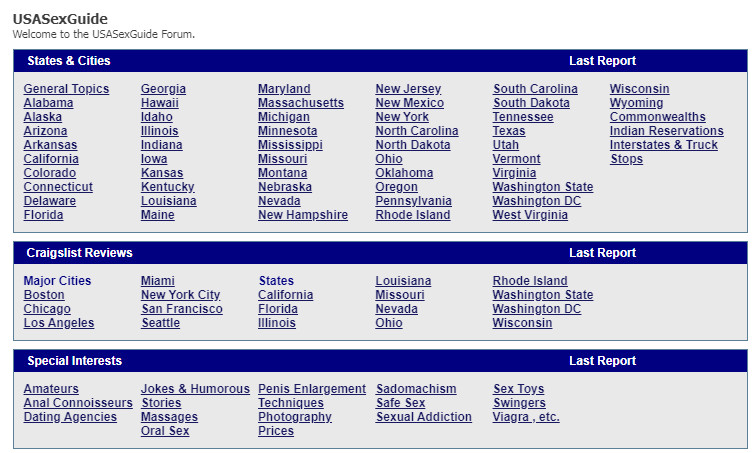 You can browse this vast site as a guest without signing up, but you'll miss out on certain privileges available to members. For instance, you can't post on the forums, view attached thumbnails, or interact with other members as a guest.
Good thing you can become a member in a few easy steps. You'll need a username, password, and email address, pick a time zone, accept to comply with forum rules, and verify your email. That should take you a minute or less depending on how fast the verification link is dispatched to your email.
Is it easy finding whatever you're looking for?

Once you've gotten the hang of what the site entails, jumping from one page to the next becomes a walk in the park.
The design and layout are quite rudimentary, you won't get lost in complicated maneuvers trying to find your way around. It gets particularly easier when you've clicked on the state or city you're looking for information about.
The next thing is to find forums that discuss the kinks you might be into.
They have a handy FAQ section, an advance search bar, and a log of common abbreviations used in the forums. Those help you quickly get up to speed with everyone else.
Can I trust everything I read in the guide?
Absolutely NOT, and the site makes a disclaimer about this. They warn that not all the responses are accurate. Some may be reviews by providers, biased reviews or responses, traps laid by undercover law enforcers, or even scams.
We advise to use your discretion and report anything that sounds shady. There's a lot of helpful information, though, and you should already know when you're being cat-fished or scammed on the web.  On that subject, check out the latest paragraph of the EscortAffair Review here.

Is it safe and free to use USA Sex Guide?
USA Sex Guide is a fairly safe site to use. It is free. And like many adult sites with traffic, you can't miss a scumbag or two trying to scam you.
Internet lesson 101: always be stingy with your personal information. You're a loser if you give your credit card information to the next person that asks 'nicely.'
Also, don't be clicking on every ad that pops up or links leading god knows where!
My Conclusion 
To sum it up, USA Sex Guide is an active sex travel guide worth checking out. If you can forgive them for the heinous design and the numerous annoying ads, then you can benefit from the wealth of knowledge from the mongers holding discussions in the forums.
You can learn about the best hotels to stay in, strip joints to hit, massage parlors. It can be a gold mine finding the escorts worth your time and money. But also the ones you shouldn't go near.
As always, we want to hear from you! What do you think of our  USAsexguide review? Have you tried the site and liked it?
Leave you comment at the bottom of the page, because sharing is caring 
 Stay safe out there! 
Amount of Profiles
7.0/10
The Good
100% FREE
Very Active Forum
Super Easy Interface
Ad-free (except for the sponsors)
Customer Service and Support
The Bad
Outdated Design
It's cluttered and can be a little confusing at first
Annoying ads (popups and banners)
Premium Porn List - The Best Porn Sites List of 2023
Average rating:
1 reviews
Jul 7, 2023
Awesome
USAsexguide is in my book the best forum when it comes to finding escorts. You get real reviews from experienced users and real recommendations so you do not get scammed. I only deal and talk so Senior members to avoid actually talking to providers, they are known to make up fake user account to self promote. So I do recommend usasexguide, this is a good review btw! Keep up the Good work! Thanks !